Ekam Yoga Retreat – Autumn Equinox: a journey to rediscover our space and our "new" rhythm
21 Settembre 2019 @ 10:00
-
22 Settembre 2019 @ 17:00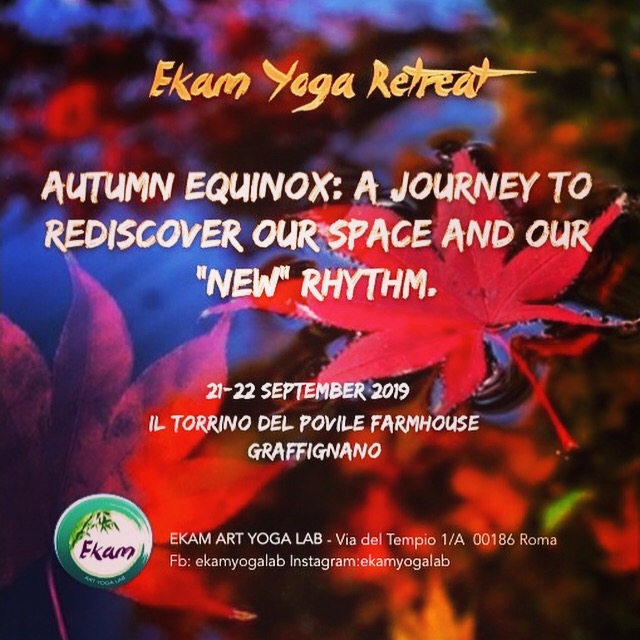 Ekam Art Yoga Lab offers a weekend of yoga and wellness at the "Il Torrino del Povile" farm, to celebrate the Autumn Equinox.
It is the time of abandonment and letting go of what has been.
It is the time of acceptance of the fruits and of enjoying what one has.
It is an awareness that propels us towards thanksgiving and waiting for a new cycle.
The practice, conducted by Elena and Sabina, will be inspired by the elements of nature to stimulate our senses and enter into deep contact with ourselves to rediscover our space and our "new" rhythm.
SCHEDULE:
‪Saturday September 21st‬
‪08.00 – 9.30 Arrival / Check in‬
‪10.00 – 11.30 "Go with the flow" a vinyasa yoga practice‬
‪11.30 – 13.00 Free time‬
13.00 Lunch
‪14.00 – 15.30 Free time‬
‪15.30 – 17.30 "Creative Mandala Meditation"‬
‪17.30 – 18.30 "Mabon Celebration" a yin yoga practice‬
‪18.30 – 19.30 "Equinox Sound Bath" with Gongs, Tibetan Bells and‬
Ancestral Instruments
20.30 Dinner
‪Sunday September 22nd‬
07.30 "Gratitude" Meditation
‪08.30 –10.00 Breakfast / Free time‬
‪10.00 – 11.30 "Balancing Inner Forces" a vinyasa yoga practice‬
‪11.30 – 12.30 Free time‬
12.30 Lunch
‪13.30 – 15.30 Free time‬
‪15.30 – 17.00 "Let It Go" an aerial sound yoga practice‬
‪17.30 – 18.30 Check out / Departure‬
The offer includes
• 1 night accommodation
• Full board with a choice of vegetarian or non-vegetarian menus,
drinks included
• Single, double, triple or quadruple rooms
• Yoga and aerial yoga classes, meditations
• Harmonic baths
For information and reservations contact ‪339 7250843‬, for teachers' bio visit ‪www.ekamyogalab.it‬
‪Anche questo è Ekam 🙏‬
Event Details