Move with the Season – Spring Expansion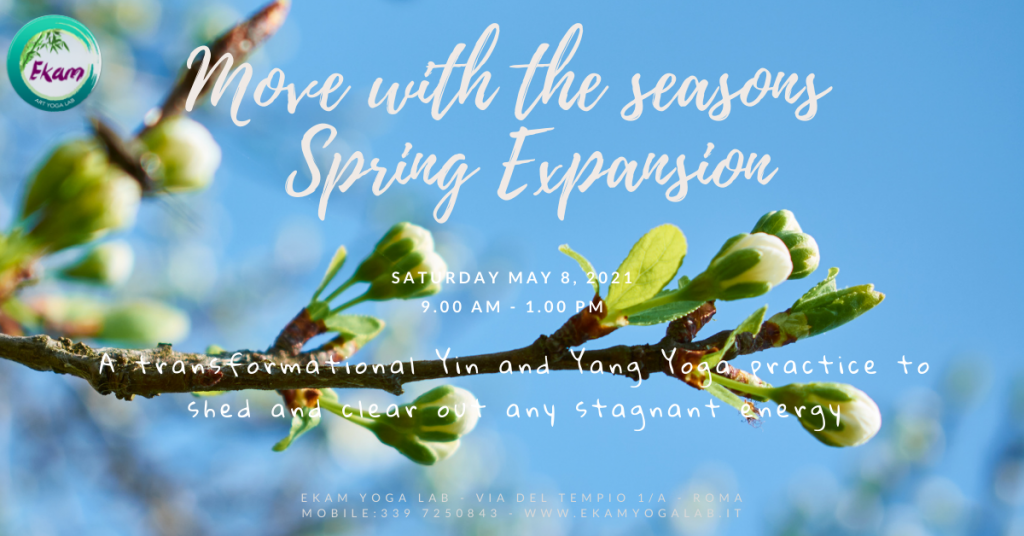 La primavera è un momento di Rinnovamento, Crescita ed Espansione sia nella natura che nei nostri corpi.
Nella medicina cinese, l'elemento legno è associato alla primavera e rappresenta il movimento verso l'alto, radici forti, flessibilità e capacità di aggirare gli ostacoli verso la luce. Nel nostro corpo, possiamo sentire un'ondata di energia, un bisogno di fare progetti, abbracciare il cambiamento e le opportunità.
In questo seminario avremo l'opportunità di liberarci di qualsiasi energia stagnante nel corpo e di emozioni come la rigidità, rabbia e frustrazione lasciandoci andare e fluire nel movimento in tutte le sue forme.
.
Vi aspettiamo sabato 8 maggio 2021 dalle 9.00 alle 13.00 presso il Waterfront Beach – Focene. A seguire, per chi lo desidera, pranzo sulla spiaggia.
Programma:
9.00 -10.15 Spring Expansion through spiral growth – a multilevel vinyasa yoga practice
10.30 – 11.30 Spring is in the air – an advanced aerial yoga practice
11.45 – 12.45 Spring is in the air – an intermediate aerial yoga practice
.
Costo del seminario 20 euro (pranzo escluso).
Per chi partecipa a tutti e quattro i seminari, il costo è di 15 euro.
Per informazioni e prenotazioni scrivere a info@ekamyogalab.it o contattare il numero 339 7250843.