Move with the season – Surrender to Winter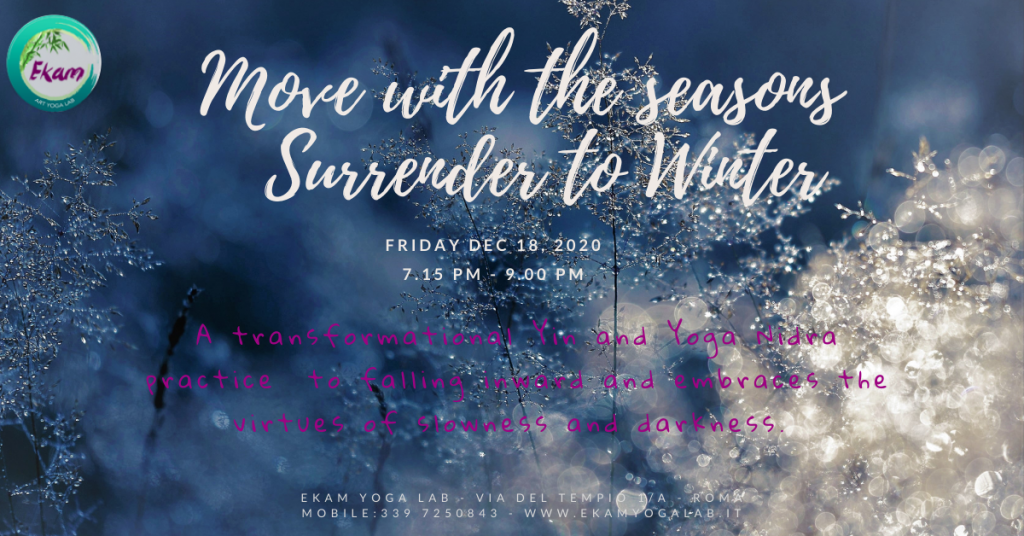 .
L'inverno è un momento di Raccoglimento e Introspezione: osservando la natura ci accorgiamo di come essa si ripiega su se stessa per abbracciare le virtù della lentezza e dell'oscurità.
E' quindi il momento per riposarsi, per rigenerarsi e per rafforzare le nostra fondamenta.
E' anche il momento propizio per una promessa, per pensare ai progetti futuri e affidare i semi dei nostri obiettivi al suo terreno affinché se ne prenda cura, li nutra e consenta loro di germogliare in primavera.
In questo seminario ci dedicheremo all'interiorizzazione e a nutrire lo spirito attraverso la meditazione, pratiche di yin yoga e di yoga nidra.
.
Vi aspettiamo venerdi' 18 dicembre 2020 dalle 19.15 alle 21.00
Costo del seminario 20 euro.
Per chi partecipa a tutti e quattro i seminari, il costo è di 15 euro.
Per informazioni e prenotazioni scrivere a info@ekamyogalab.it o contattare il numero 339 7250843.