Move with the Seasons – Summer Chill Out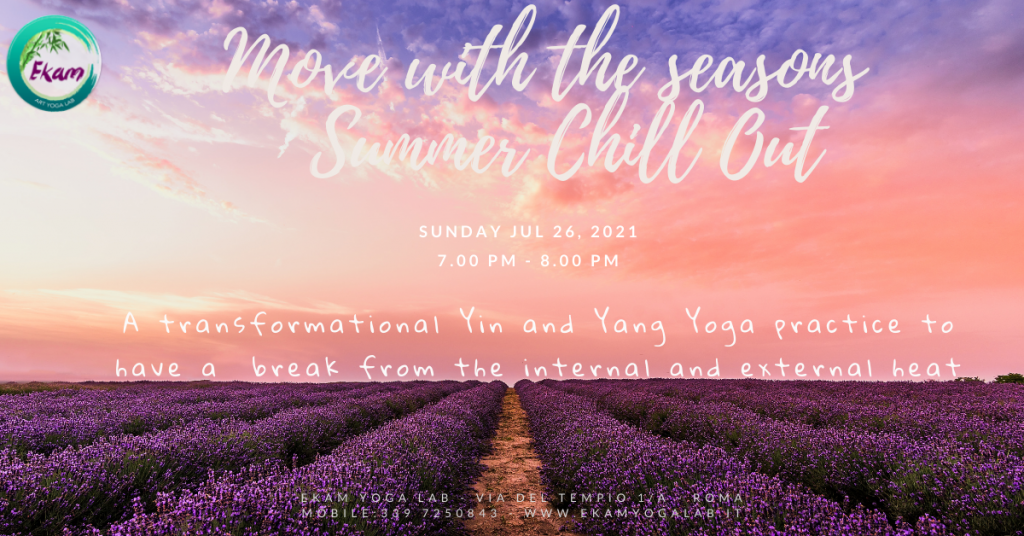 L'Estate, la stagione della pienezza e della manifestazione, rappresenta il momento ideale per muoverci verso l'esterno e confrontarci con quello che ci circonda: è il culmine dell'energia, il raggiungimento dei propri obiettivi, la forza fisica e mentale che, ben direzionata, produce opere e frutti.
In questo seminario avremo l'opportunità di esplorare la qualità del fuoco nella sua manifestazione di forza generativa, trasformativa e creativa collegata alla gioia e alla vitalità lasciandoci andare e fluire nel movimento in tutte le sue forme tra la dimensione del fare e del lasciare accadere.
Vi aspettiamo ‪lunedi' 26 luglio 2021 dalle 19.00 alle 20.00 presso il Waterfront Beach per una pratica di yoga yin e yang.
A seguire, per chi lo desidera, apericena sulla spiaggia.
Per informazioni e prenotazioni scrivere a info@ekamyogalab.it o contattare il numero ‪339 7250843 .